Scott & Kat's $10K Chicken hits the city September 25th, and you could win it all… If you're not chicken!
Listen to The Scott & Kat Show weekday mornings at 8:10am for the cue-to-call; when you hear it, call 1-833-915-SHOW for the chance to play!
How to Play: 
Every weekday, Scott & Kat will pick two callers to play against each other.
The Chicken Jackpot will start at $100, and the jackpot amount could rise or fall, and it could

bust

at any time!
The first player to say "CHICKEN" and their name could win the last jackpot amount revealed…
Player 2's choices are a) split the money with Player 1, or b) risk playing for more money.
If Player 2 decides to play on, the jackpot fluctuations will resume.
Then it's up to Player 2 to say "CHICKEN" before the jackpot busts! If they do, they win the last jackpot amount called out.
If Player 2 busts, Player 1 will win the jackpot amount they said "CHICKEN" on!
Good luck! 
Powered by Coop – Wicked Chicken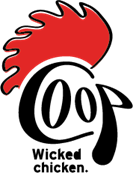 NO PURCHASE NECESSARY. LIMIT ONE (1) ENTRY PER HOUSEHOLD DURING THE CONTEST PERIOD. TWENTY-THREE (23) PRIZES AVAILABLE TO BE WON. APPROXIMATE RETAIL VALUE OF PRIZE CDN $1.00 – $10,000.00. MUST BE A LEGAL RESIDENT OF THE PROVINCE OF ONTARIO WHO IS AGE OF MAJORITY OR OLDER AT TIME OF ENTRY. CONTEST RUNS SEPTEMBER 25, 2023 TO OCTOBER 27, 2023. ENTRIES MUST BE RECEIVED BY 11:59PM ET ON OCTOBER 27, 2023. SKILL TESTING QUESTION MUST BE CORRECTLY ANSWERED TO CLAIM PRIZE. ODDS OF BEING SELECTED DEPEND ON NUMBER OF ELIGIBLE ENTRIES RECEIVED. FOR FULL SET OF RULES CLICK HERE.