Due to the impact of Covid-19; and to better position ourselves to fulfill our mission, The Board of Directors has agreed to pause funding until October 31, 2020.
These are extraordinary times and extraordinary circumstances for all of us. We have been faced with event cancellations or postponements and have been unable to fundraise which has resulted in drastic revenue shortfalls.
Our commitment to supporting children in our community has not changed and we feel it's even more essential now during these unprecedented times.  We will be reviewing our funding initiatives and overall operations over the summer and evaluating our contributions in September.  
Thank you and be safe.
---
SEE YOUR DONATION IN ACTION.
We support local organizations in your community: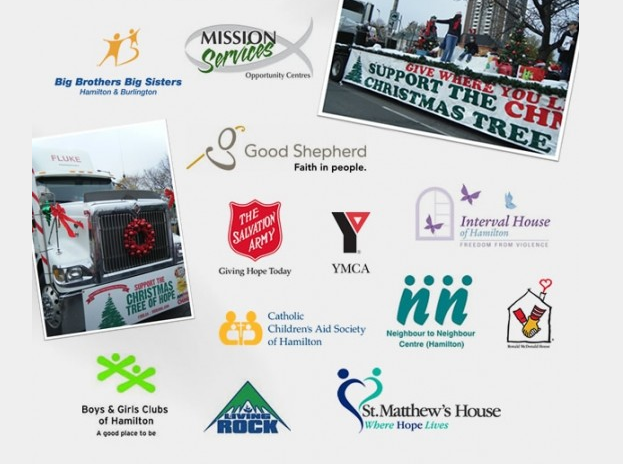 Since 1976 over $5.7 MILLION has been distributed to local organizations in the Hamilton/Burlington area.
---
Ways you can help donate:
TEXT
Simply text DONATE to 30333 to instantly donate $5 (donation will appear on your monthly cellular bill)
At the Bank
Donate to The Children's Fund at any Hamilton area Tandia.
Account #6233092-117.
Locations include:
Hamilton – 75 James St South & 990 Upper Wentworth St.
Ancaster – 21 Stone Church Road
Stoney Creek – 975 Queenston Road
Burlington – 3455 Fairview Street
Brantford – 25-27 King George St
Donate Online
Donate to The Children's Fund online via PayPal. The choice is yours, Visa, Mastercard, American Express or Debit.
No membership required to donate, it is optional.
In Person
Donate to The Children's Fund in person at the 900 CHML/Y108/Energy 95.3 Studios (875 Main Street West; Hamilton), or wherever you see us on location.
We accept Cash, Debit, Visa, Mastercard or American Express
---
THE CHRISTMAS TREE OF HOPE
The annual Children's Fund Christmas Tree Of Hope was founded in 1976 to bring hope to kids and families struggling through the holiday season.
The campaign now serves as the primary fundraising mechanism for the Children's Fund. Official "Christmas Tree Of Hope" trees are lit in Gore Park Hamilton and Burlington as symbols of our efforts during the Christmas season.
Other activities include our:
Annual Christmas Concert at Gore Park in Hamilton
"Blitz Day Radiothon" on 900 CHML, Y108, and Energy 95.3
"Operation Santa Claus Toy Truck" Toy Drive
From now until December 31st, 2019, JR Toy Company will be donating $1.00 from each online order with gift wrapping to the Christmas Tree of Hope Children's Fund, an initiative that aims to help kids and families struggling through the holiday season. Additionally, visitors to JR Toy Company's first retail location at 4265 Fairview St, Unit 2 in Burlington, Ontario can donate to the cause by purchasing an ornament for our stores' Holiday Tree.
For more information or directions to our store, please visit https://www.jrtoycanada.ca/
---
OPERATION SANTA CLAUS
For 50 years, Jimmy and Susan Lomax made Christmas a reality for thousands of Hamilton and Burlington residents in need.
In 2010, the Children's Fund took over stewardship and will continue the tradition of "Operation Santa Claus" in Hamilton/Burlington and is one of Canada's largest Toy Drives.
New, Unwrapped Toys
Through OPERATION SANTA CLAUS Toy Drive.
Drop off at the 900 CHML/Y108/Energy 95.3 Studios (875 Main Street West; Hamilton), any Hamilton Fire Station, McDonald's or call us and we'll pick them up from your office!
To arrange a toy pickup from your office, call 905-521-9900 x445570
---
---
Thank you to our corporate sponsors
CONTACT US
Jeff Storey, President: 905-521-2325
Charity Number: Registered Charity #11922 2578 RR0001
---
Apply For Funds
To apply for funds, please copy and paste the form below and e-mail the completed form to Lisete.Culley@corusent.com
The Children's Fund Board meets every 3rd Wednesday of the month.
All requests to be submitted for the Calendar Year (2020).
Entry Date:
Name:
Email:
Organization:
Charity Number:
(Charities required a registered Charity Number to apply)
Address:
Phone Number:
Will the funding be used solely for children?
How many children will the funding help?
Dollar amount being sought:
Time period funding will be utilized:
Is the program seasonal/annual?:
Description of program/service being provided:
Have you received funding from the Children's Fund in the past?:
If you answered yes to the question above…when?
How did you hear about the Children's Fund?
Are there opportunities within your organization to raise awareness of the Children's Fund?:
How else can CHML, 95.3 Fresh Radio and Y108 help your organization?:
If you are requesting funds for $10,000 or more please answer the following questions:
a) Who it will benefit
b) Design of the project
c) Outcomes expected.
A brief overview of your budget, income sources, and expenses for this project.
All monies raised through the the Children's Fund are distributed locally. A volunteer board administers donations monthly based on requests made to the Fund.
Since 1976, over $5.7 million has been distributed to local organizations. Past and present recipients include:
Afro Canadian Caribbean Association
Ancaster Community Services
Autism Ontario Hamilton Chapter
Breakfast With Santa
CANUSA Games
Catholic Children's Aid Society of Hamilton
Catholic Family Services of Hamilton
Catholic Youth Organization
Children's Aid Foundation of Halton
Children's Aid Society of Hamilton
Culture for Kids in the Arts
Delta Secondary School
Dr. Bob Kemp Hospice Bereavement Program
Dundas Valley School of Art
Essential Aid and Family Services of Ont Inc.
Eva Rothwell Centre
Fit Active
Food 4 Kids
Good Shepherd
Grace Haven School
Green Venture
Hamilton Conservation Authority
Hamilton Food Share
Hamilton Regional Indian Centre
Hamilton's Children's Choir
Ham-Wentworth District School Board
HFA-Varsity Tiger-Cats
Imagine in the Park (Rotary Club of Hamilton, AM)
John Howard Society of Hamilton, Burlington & Area
Joyce's Annual Christmas Party
Liberty for Youth
Living Rock Ministries
Lynwood Charlton Centre
McMaster Children's Hospital
Mission Services of Hamilton
Mission Services of Hamilton
Neighbour to Neighbour Centre
Open Doors
Peoples Community Sports/Peoples Church Hamilton
Ronald McDonald House South Central Ont.
Rotary Club of Hamilton
Salvation Army
Southwestern Ontario Military Family Resource Centre-Hamilton Satellite
Telling Tales
The Lung Association
Thrive Child and Youth Trauma Services
Welcome Inn Community Centre
Wesley Urban Ministries
Winona Gospel Church/KidsQuest Camp
YMCA of Hamilton/Burlington/Brantford