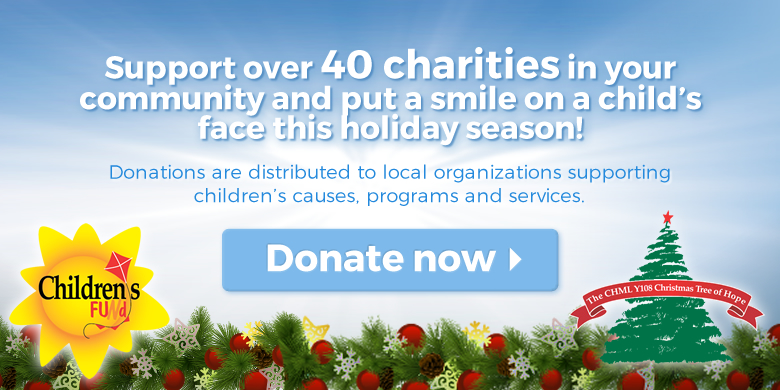 The annual Children's Fund Christmas Tree Of Hope was founded in 1976 to bring hope to kids and families struggling through the holiday season.
The campaign now serves as the primary fundraising mechanism for the Children's Fund. Official "Christmas Tree Of Hope" trees are lit in Gore Park Hamilton and Burlington as symbols of our efforts during the Christmas season.
As many face financial burden, now, more than ever, the Energy Christmas Tree of Hope needs your support.  Every child deserves to open a gift on Christmas morning and we couldn't do it, without your generosity.  In the last 45 years, The Tree of Hope has donated $6 million to local children's charities.  Proof, you can make a difference.  Donations now being accepted.
Text to Donate:
Simply text DONATE to 30333 to make a contribution (donation will appear on your cell phone bill)
Donate Online:
Donate to The Children's Fund at any Hamilton area Tandia.
Locations include:
Hamilton – 280 Barton Street W & 990 Upper Wentworth St.
Ancaster – 21 Stone Church Road
Stoney Creek – 975 Queenston Road
Burlington – 3455 Fairview Street
Brantford – 25-27 King George St

Donate By Phone:
If you would like to donate by call, please call Olivia Mackay at 905-521-2310
Charred on 244 James Street N will donate $2.00 from their whole chicken meal sale every Tuesday during the month of December.
BBQ Bandits on 102 Parkdale Ave N will donate $1.00 from every Y108 Piggy Burger to the Children's Fund.
---