The annual Children's Fund Christmas Tree Of Hope was founded in 1976 to bring hope to kids and families struggling through the holiday season.
The campaign now serves as the primary fundraising mechanism for the Children's Fund. Official "Christmas Tree Of Hope" trees are lit in Gore Park Hamilton and Burlington as symbols of our efforts during the Christmas season.
As many face financial burden, now, more than ever, the Energy Christmas Tree of Hope needs your support.  Every child deserves to open a gift on Christmas morning and we couldn't do it, without your generosity.  In the last 44 years, The Tree of Hope has donated $5.9 million to local children's charities.  Proof, you can make a difference.  Donations now being accepted.
Text to Donate:
Simply text DONATE to 30333 to make a contribution (donation will appear on your cell phone bill)
Donate Online:
Donate to The Children's Fund online via PayPal. The choice is yours, Visa, Mastercard, American Express or Debit. No membership required to donate, it is optional.
Donate to The Children's Fund at any Hamilton area Tandia:
Locations include:
Hamilton – 75 James St South & 990 Upper Wentworth St.
Ancaster – 21 Stone Church Road
Stoney Creek – 975 Queenston Road
Burlington – 3455 Fairview Street
Brantford – 25-27 King George St
Donate By Phone:
If you would like to donate by call, please call Lisette Culley at 905-521-2320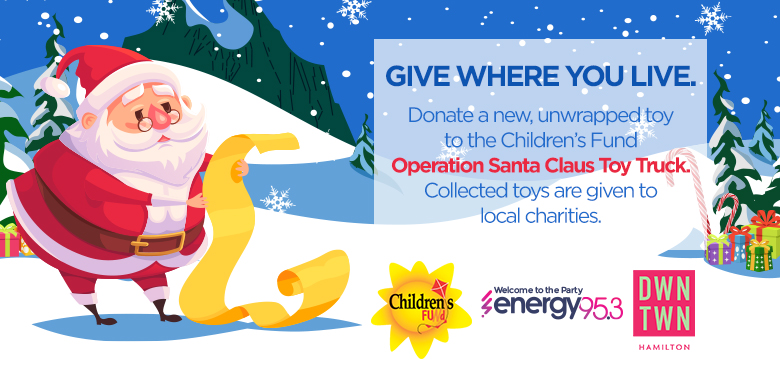 The Children's Fund presents the return of the Operation Santa Claus Toy Truck.
Are you planning a toy drive at your office or workplace and don't have place to donate them? Or are you simply looking at a way your family can help other less fortunate kids during the Christmas holiday?
You can drop off your donations to the Downtown Hamilton BIA office and we'll donate them to local charities (address below)
Help us help bring a smile to the faces of children infant to early teen years, through the Operation Santa Claus Toy Truck
Charities we donate to include: Good Shepherd Centres, YMCA, Mission Services, Interval House, St. Matthews House, Neighbour to Neighbour, Big Brothers and Sisters and more.
Toy Truck cut off date is Friday December 11th.
**To protect the health and safety for all, we ask that all donations be placed in clear garbage bags.**
New/Unused Toys can be donated in person at:
Downtown Hamilton BIA
20 Hughson St South – Suite 104
Hours: 9am-4pm (Monday-Friday)
Call (905) 523-1646 if outside noted hours or if assistance is required
For more info, email Ekta: Ekta.Patel@corusent.com
From now until December 31st, 2020, JR Toy Company will donate $1.00 per gift wrapped item to the Energy 95.3 Christmas Tree of Hope. For more information on JR Toy Company and how they are supporting our community, please visit jrtoycanada.com.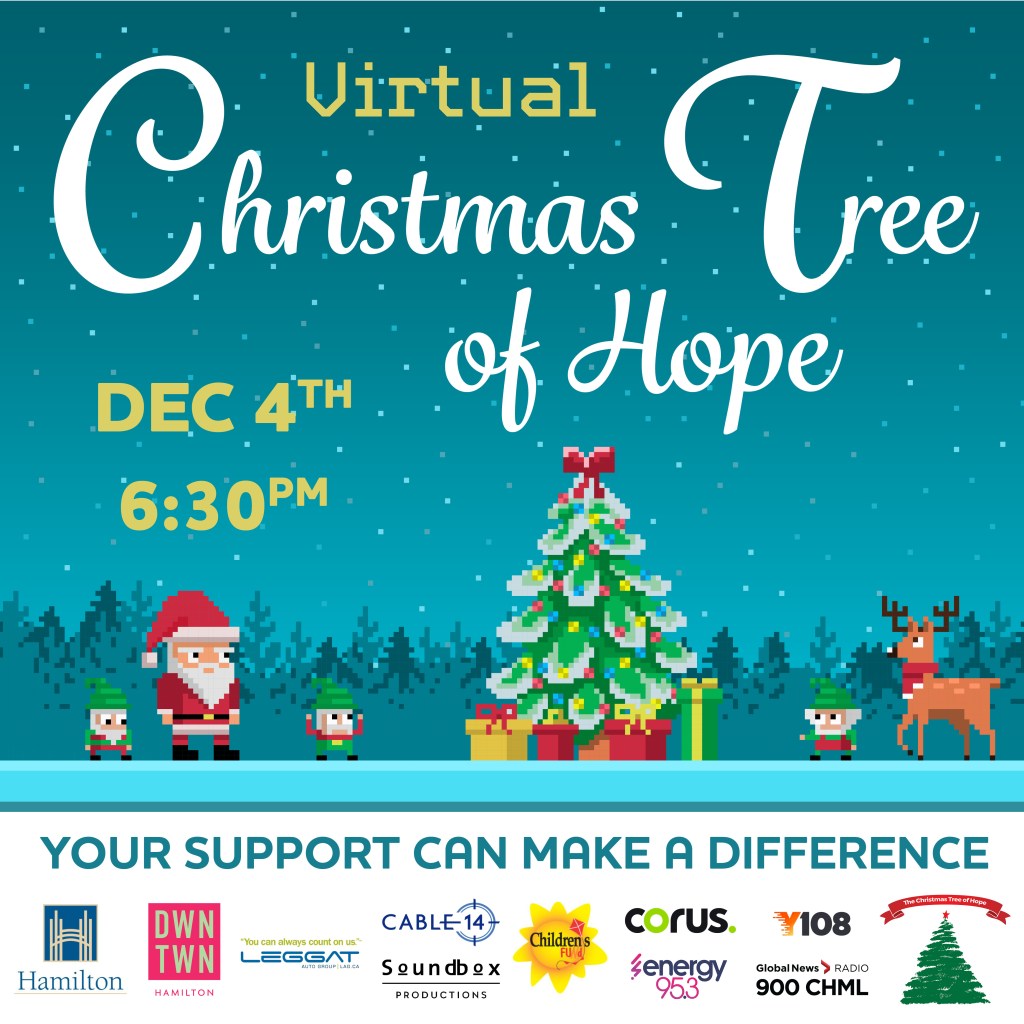 Join us online as we light up the downtown with the Christmas Tree of Hope and festive lighting in Gore Park at 6:30 pm. Cozy up with a hot beverage or meal from your favourite restaurant and tune in for this year's virtual event (there will be no in-person attendance permitted for the tree lighting). The Christmas Tree of Hope Lighting and Concert marks the start of the Christmas season throughout Hamilton.  Watch live over at our Brother station's site
Facebook.com/Y108rocks