The annual Children's Fund Christmas Tree Of Hope was founded in 1976 to bring hope to kids and families struggling through the holiday season.
The campaign now serves as the primary fundraising mechanism for the Children's Fund. Official "Christmas Tree Of Hope" trees are lit in Gore Park Hamilton and Burlington as symbols of our efforts during the Christmas season.
Every child should have an opportunity in life. That's why the Energy 95.3 Christmas Tree of Hope is so important!  In the last 47 years, the Children's Fund has raised over 6.3 million dollars. Allowing us to support children's organizations in our community, year-round.
The Energy 95.3 Christmas Tree of Hope in association with Michael St. Jean Realty – When Life Changes – and Leggat – Drive Life.
---
Donations now being accepted.
Mail:
Mail to 6-875 MAIN STREET WEST, HAMILTON, L8S 4R1
All cheques should be made to: THE CHML CHILDREN'S FUND
Text to Donate:
Simply text DONATE to 30333 to make a $10 or $20 contribution (donation will appear on your cell phone bill)
Donate Online:
Donate to The Children's Fund online.  The choice is yours, Visa, Mastercard, American Express or Debit. No membership required to donate, it is optional.
Donate to The Children's Fund at any Hamilton area Tandia.
Locations include:
Hamilton – 280 Barton Street W & 990 Upper Wentworth St.
Ancaster – 21 Stone Church Road
Stoney Creek – 975 Queenston Road
Burlington – 3455 Fairview Street
Brantford – 25-27 King George St
Donate By Phone:
If you would like to donate by call, please call Olivia Mackay at 905-521-2310
For more information please visit https://energy953radio.ca/childrens-fund/
---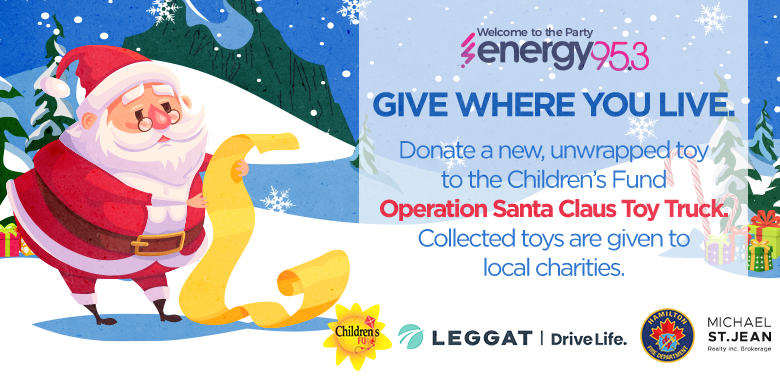 Click here for more details on the Operation Santa Claus Toy Truck.
---