Dancehall superstar Sean Paul began scoring hit singles in Jamaica in 1996 and steadily attracted international attention thereafter, eventually breaking into the pop mainstream in 2002 with Dutty Rock. Born Sean Paul Henriques on January 8, 1973, the multi-ethnic Paul (his parents had Portuguese, Chinese, and Jamaican forebears) grew up comfortably in St. Andrew, Jamaica, his mother a renowned painter.
Paul released his debut single, "Baby Girl," with producer Jeremy Harding in 1996; it proved a significant success, leading to further Jamaican hits like "Nah Get No Bly (One More Try)," "Deport Them," "Excite Me," "Infiltrate," and "Hackle Mi." In 1999, Sean Paul started to make inroads to American audiences; he was first commissioned to collaborate with fellow dancehall hitmaker Mr. Vegas on a production for rapper DMX; titled "Here Comes the Boom," the song was included in director Hype Williams' film Belly. Also that year, Paul scored a Top Ten hit on the Billboard rap charts with "Hot Gal Today." His 2009 release Imperial Blaze featured the singles "So Fine" and "Hold My Hand," the latter a duet with Keri Hilson. The loose Odyssey Mixtape dropped in 2011 and was followed a year later by Tomahawk Technique, a more pop and dance-oriented album with production from the likes of Stargate, DJ Ammo, and Benny Blanco. In 2012, he collaborated with CongoRock and Stereo Massive on the single "Bless Di Nation." In 2013, he announced details of Full Frequency, his sixth studio album, which was released in early 2014. The singles "Other Side of Love," "Entertainment," "Turn It Up," and "Want Dem All" were released in preparation for the record.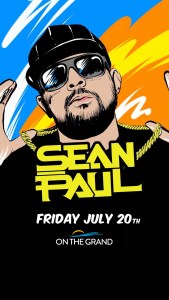 Tickets
VIP:  $75.00 + fees and taxes
Two scenic private VIP sections available to all VIP ticket holders with private bars and service. Enjoy the beautiful picturesque background of the Grand River while the sun sets behind the stage in these special areas. Gorgeous water and fountain features rest inside the lounge space of the VIP section. Enjoy private servers and the option to rent a VIP viewing box. If you're going VIP you're getting the best view in the venue!
GA PIT:  $60.00 + fees and taxes
Platinum Reserved Seat:  $65.99 + fees and taxes
Gold Reserved Seat:  $60.99 + fees and taxes
Silver Reserved Seat:  $55.00 + fees and taxes
Lawn Standing:  $49.99 + fees and taxes
Accessible Seating:  $55.00 + fees and taxes
Dedicated seating location available for patrons with disabilities.